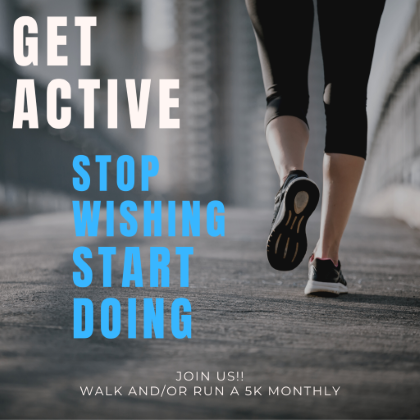 - Look to join us in 2023 for more 5Ks!
Let's get active, TOGETHER, safely outdoors!
Continuing with our vision and mission to inform & inspire our community to continuously make healthier lifestyle changes. If you didn't know, my hubby and I are runners, and we're doing at least one 5k each month. COME JOIN US!
Help others by supporting a good cause AND get up off your couch and commit to your health.
Yes, we will be starting waaay in the back... to social distance, OF COURSE!
Run, walk, skip backwards for all I care... just do it!
MONTHLY 5K LINEUP 2023
APRIL - Saturday, 4/22 @9:30AM -

10th Annual Socks & Undies 5K

Walk/Run, Raleigh NC

Help clothe homeless and impoverished children in our NC communities.
MONTHLY 5Ks 2022
JANUARY - It's just too cold outside, BURRRRR!!! We are definitely not cold weather people.
FEBRUARY - Sunday, 2/27 @9AM Head for the Cure 5k in Chapel Hill
Defeating brain cancer step-by-step. 5K COMPLETED!!
Every dollar raised goes to support a nonprofit organization in our community. 5K COMPLETED!!
Race to end breast cancer. 5K COMPLETED!!
Run a course at night, lined w/luminaries to honor those battling cancer. 5K COMPLETED!!
JUNE - Saturday, 6/11 @9am

Run for Love 5K

in Raleigh
Run/Walk to support Pride Raleigh and our LBGTQ brothers and sisters. 5K COMPLETED!!
JULY - Sunday, 7/17 @9AM

Cal Tri Raleigh 5k

in Wake Forest
Run/Walk/Tri to support Habitat for Humanity. 5K COMPLETED!!
AUGUST - Saturday, 8/27 @8:30PM Night Nation Run in Cary
Run. Walk. Skip. Dance. Glow. to support Stand Up to Cancer (SU2C) to accelerate cancer research. 5K COMPLETED!
Run/Walk to support the healing of teen girls and their families in your community thanks to House of Hope of NC. 5K COMPLETED!
OCTOBER - Sunday, 10/16 @2:30PM Feed Your Neighbor 5K in Wendell, NC
Come out to benefit a local community food pantry and your health. 5K COMPLETED!