Fresh Air Yoga
BRING YOUR OWN MAT!!! and...
Increase flexibility, balance, strength and overall wellness under a beautiful canopy of trees, with birds chirping, and fresh air. Classes are beginner friendly, but all fitness and skill levels are challenged.
Learn to connect the body, mind and spirit by moving through postures intentionally and using your breath.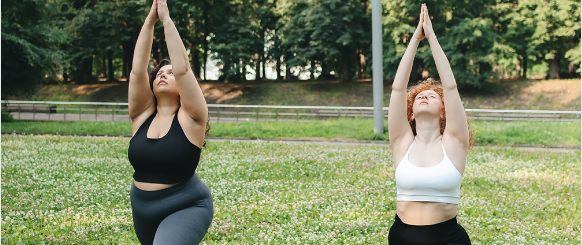 Fresh Air Yoga 2023 Season begins Saturday, May 6th! ***Weather Permitting***
Our wellness offerings are FREE to the community, but a $10 donation to our monthly charity is suggested.
***This month we are raising funds for Feeding the Carolinas - providing access to healthy food for all. List of 2023 Charities ***
Selfcare Saturday and Sunday Yoga
Bring your mat and bottle of water.
Our selfcare yoga series will be offered alternating Saturdays @9AM and Sundays @6PM, outdoors in the fresh air!
Join us for a gentle way to move and strengthen your body, mind, spirit, and breath!
Planned Schedule:
Saturdays: May 6, Jun 3, Jul 8, Aug 12, Sep 9, Oct 7
Sundays: May 21, Jun 18, Jul 23, Aug 27, Sep 24, Oct 22
~~~~~~~ SEE YOU ON THE MAT! ~~~~~~~
CLASS SCHEDULE 2023
Saturdays @9AM - Active Flow
Sundays @6PM - Gentle Flow